With the Habit Tracker extension, you can track your recurring tasks' completion streaks in the task description, as well as completion history in the task comments.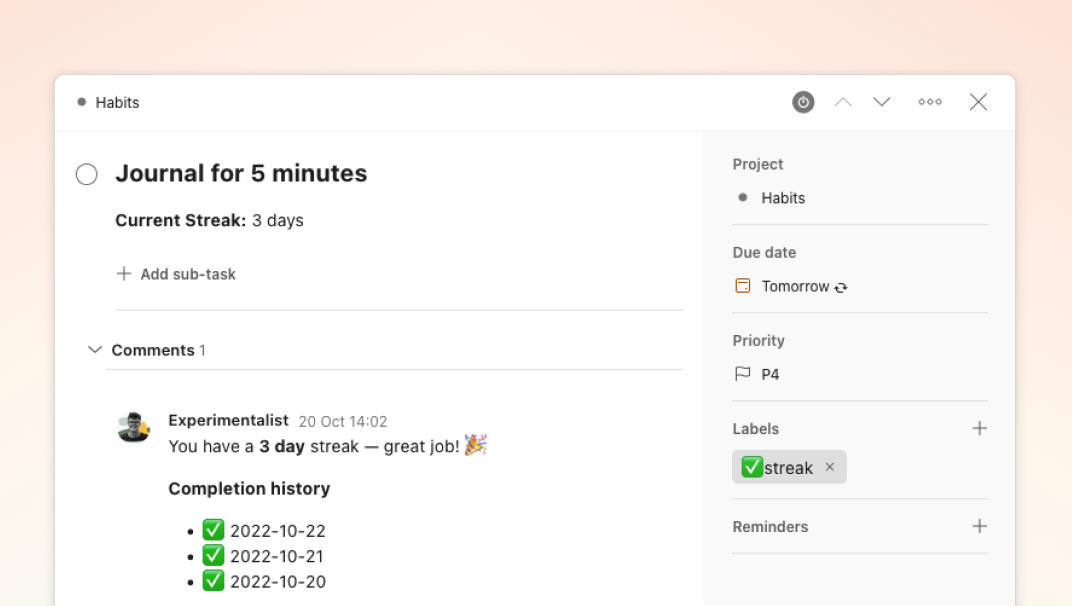 Make sure to complete your recurring tasks each day, as any recurring task that becomes overdue at the end of the day will cause your streak to reset.
Setting up the extension
Open the Todoist desktop or browser app.
Click your avatar in the top-right corner.
Select Integrations.
At the top, click Browse.
In the list of available integrations, select Habit Tracker.
Click Add.
Click Confirm. 
When you run the extension for the first time, you will be asked to authenticate your Todoist account. 
Using the extension
Click any task to open the task view. 
Click the three dots icon in the top-right corner of the task view. 
Click Track habit.
The current streak will be displayed in the task description and the completion history will be recorded in your task comments. 
The task tracking data will be added to the task description, therefore, please avoid adding your own description to this task, as the Habit Tracker extension will override it.
FAQ
Click your avatar in the top-right corner.
Select Integrations. 
Click Habit Tracker. 
Select Remove.
Click Remove to confirm.
No, this is not possible at the moment, you can only start a new streak from scratch.